How To Choose The Right Air Conditioner For Your Home
To choose the right air conditioner for your home you will need to consider a number of factors: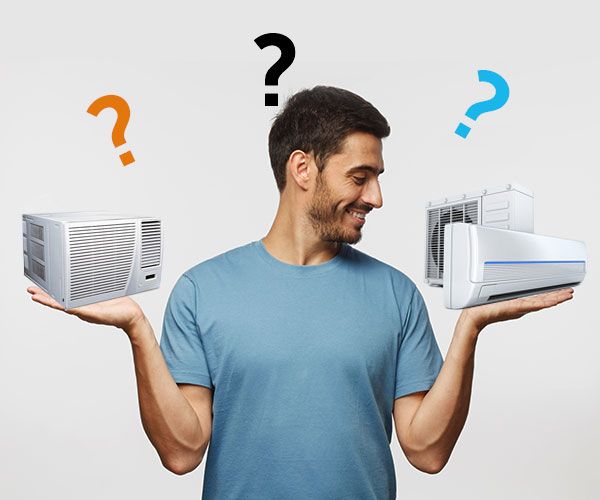 1. Local climate – In Australia, lots of us live in a reasonably humid climate.  Unfortunately, this means that our air conditioners have to work even harder to keep us cool, resulting in an increase in energy consumption.  It also means that in regions of the country where the humidity is particularly high, certain types of air conditioners are effectively useless. For example, evaporative coolers are not suitable in high humidity due to excess moisture forming inside the air conditioning unit. For high humidity areas, a refrigerated system would be the best option for cooling.
2. How many rooms you would like to cool – Choosing a unit to cool a single room is relatively simple, however, if you would like to cool multiple rooms this requires more in-depth consideration. Window units or split systems are a good choice for cooling a single room. However, if you'd like to cool additional rooms at your property you might want to consider a multi-split system or a ducted air conditioning system if you require whole-house cooling.
3. Room size and layout – It's important to choose an air conditioner with the correct cooling output or capacity (usually measured in kilowatts) for space.  Selecting an air conditioning unit that is the wrong capacity for the size of the room not only results in poor performance, but also in increased energy use and operating costs. It can also reduce the life-span of the system.
Natural light, insulation, ceiling height and roof type, will all play a role in determining the correct capacity for air conditioner. As all homes will differ it's best to have a qualified contractor or installer inform you what type of unit and size will be best suited to your properties needs.
4. Energy efficiency – High-efficiency units may cost more to buy initially, but can easily pay for themselves over a few years through lower running costs.
Energy efficiency of air conditioners sold in Australia are ranked by an energy star rating labelling scheme*. The more stars on the label, the more efficient the unit (please note that most ducted systems do not display a rating).  The label also gives an estimate of the annual electricity consumption. Visit the Energy Rating website for a detailed, up-to-date list of appliances.
5. The noise of the system – Some air conditioners can create excessive internal noise that may interfere with sleep or conversation. Evaporative coolers tend to give a higher inside noise than refrigerated air conditioners, especially at higher fan speeds. Ducted or split systems tend to be the quietest due to the remoteness of the operating components.
6. Reliability – Reliability is a key consideration when choosing an air conditioner.  As with most expensive appliances, it pays to stick with a well-established brand, look for lengthy warranty periods and companies that have a reputation for good after-sales service.
7. Design – Consider the amount of space you'll need for your chosen air conditioner and whether it will be suitable for the area. 
Need some help to choose the right air conditioner for you?
Request 3 Obligation Free Aircon Quotes